Already a Retiready customer? Sign in 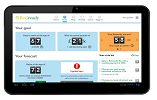 Register today
Sign up for FREE and create your Retiready dashboard and manage your pension online. Plus, you'll get full access to all our retirement planning tools.

It's ISA sale time
For new Retiready customers, there's no service charge for the life of your Retiready ISA on investments up to £50,000. Apply before midnight on 5 April 2015 and quote discount code ISA15
Terms and conditions apply

Get an iPad mini 2
Get an iPad mini 2 when you transfer £30,000 or more of new investments to a Retiready pension by 31 March 2015
Terms and conditions apply
Here's how Retiready can help you
Are you on track?
Are you on track? Your Retiready Score is a great way to find out how ready you are for the retirement you want. Your Score is FREE. Just answer a few simple questions to get started.
Achieve your goals
With a range of online tools, it's easy to set goals to achieve the retirement lifestyle you want. We can help with coaching and personalised support.
Ready to retire?
From 6 April 2015 big changes are coming to pensions. You'll have much more freedom and flexibility in how you access your retirement savings. Select here to find out more about planning your retirement.